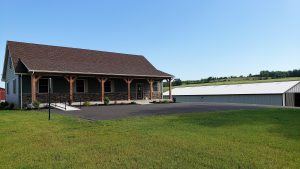 Founded in 1983 J.L.Watts Excavating, Inc. is owned by John Watts. Located in Mainesburg, PA, J.L. Watts Excavating, Inc. specializes in all your commercial, residential & energy needs in Pennsylvania.  From developments and schools to commercial properties, you will recognize much of our work as we have completed many projects in Pennsylvania.
J.L. Watts Excavating, Inc. produces only the best work, completing each individual design to perfection. We do our best to satisfy our customers.  Please feel free to contact us with any questions or for an estimate.  Here are some common jobs we complete on a daily basis:
SITE DEVELOPMENT: Earthwork, Utility Installation, Asphalt Paving, Site Concrete, Building Demolition.
ENERGY SERVICES: Well Pad Construction & Reclamation, Erosion Control Installation & Maintenance, Road Construction & Repair, Rig Services, Right-of-Way Construction, Design Consulting & Engineering, Transportation Services, Wetland Remediation.